Bangkok, like most of the large Cities in the developing Countries could become "uncotrolled, toxic anthill", warns the Thai demograph Kritaya Archavanitkul.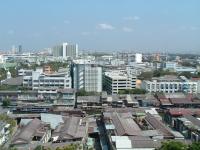 According to a report by the United Nations Population Fund (UNFPA) the "dawn of the urban millenium" will begin by next year. Then, half of the world's population will live in urban areas.
Especially in developing countries, where 80% of the urban humanity will be living by the year 2030, this trend is significant.
"Global urban Polulation increased from 220 million to 2.8 billion people during the 20th century. During the next decades we will see a unprecedented growth of population in the developing world.", quotes the Thai Newspaper
The Nation
aUN-report.
"This is particularly concerning in africa and asia, where urban population will have doubled in the years between 2000 and 2030."
Within a single generation asia's metropoles will have duplicated.
The fact that half of the 65 million Thais already lives in urban areas is due to the "urban bias - rural neclected" policy at the beginning of the developing era in the 1060's, sais Kritaya Archavanitkul, director of the mahidol university population and social research institute.
"Thailands economic growth is based on the withdrawal of resources from the rural areas. Hydropower dams feed the industrialisation and urbanisation but take resources from rural population."
The demograph suggests plans for urban development for a banced to stop the massive migration to the cities.
Technorati:
thailand
asia
urbanisation
rural
urban
areas
Kritaya
Archavanitkul
demography
population